New Pillars & Tongues Cassingle on Hotel Earth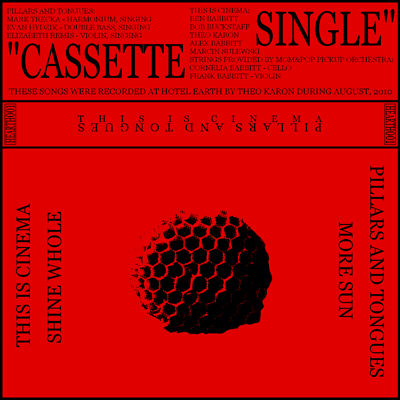 Hotel Earth is offering a pre-order of Pillars & Tongues' new split cassingle with This Is Cinema. Preview the tracks at Hotel Earth & get one before it is too late!
HEARTH001: PILLARS AND TONGUES/THIS IS CINEMA SPLIT (CASSETTE + Download)
Pillars & Tongues – More Sun
This is Cinema – Shine Whole
Two songs created via entirely opposite means and recorded in a hurry at Hotel Earth during August, 2010.
---
No Comments so far
Leave a comment
e-mail address never displayed, HTML allowed:
<a href="" title=""> <abbr title=""> <acronym title=""> <b> <blockquote cite=""> <cite> <code> <del datetime=""> <em> <i> <q cite=""> <s> <strike> <strong>