Help Save KUSF!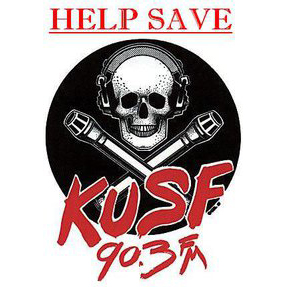 Last week, USF pulled the rug out from under KUSF (San Francisco's decades old, community oriented, award winning, volunteer operated radio station) without notice. They sold the station's FM broadcasting license in a closed-door deal and ejected the radio station's staff, changed the locks, took down the website, and refused to give any face time to the anyone in the KUSF community.
Now a slew of supporters including the San Francisco Board of Supervisors, KQED, The SF Chronicle, The Guardian, and many local radio stations, venues, artists and labels are rallying to get the university to reconsider. If enough noise is made, then there is a slim chance that the FCC will not approve the sale. Please visit the Save KUSF News Blog to learn more about what you can do to help, and sign the Save KUSF Petition.
Why do we care? Our community has been directly impacted. KUSF has always supported local artists and was quick to devote radio time to artists in the Endless Nest community. KUSF even hosted guest DJ hours by Empty Cellar & Secret Seven and The Sandwitches. Really though, this radio station did a lot for a lot of people in every corner of San Francisco; por ejemplo, airing the first Chinese language radio show in the Bay Area. So, whether or not the radio station ever goes live on the FM band again, you should take the time to learn more about why so many people are upset right now, and how KUSF provides a stand-up model for how all great community radio stations should operate.
---
No Comments so far
Leave a comment
e-mail address never displayed, HTML allowed:
<a href="" title=""> <abbr title=""> <acronym title=""> <b> <blockquote cite=""> <cite> <code> <del datetime=""> <em> <i> <q cite=""> <s> <strike> <strong>