Turn Up! Records Releases Sonny Smith's 100 Records Vol. 2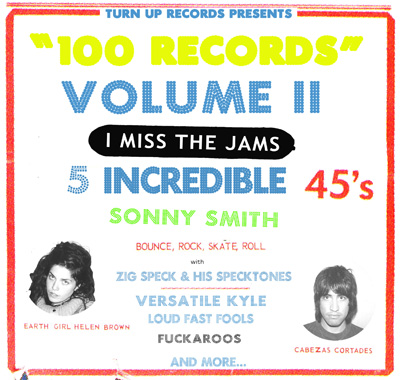 San Francisco record label Turn Up! has taken Sonny Smith's most ambitious project of all time to a whole new level of ambition. This winter, they are releasing the second recorded volume of Sonny Smith's 100 Records Project (the first being a very limited edition portfolio of Prints and tunes). The thing – titled I Miss the Jams – is beautiful! It is a fully decorated box (designed by Sonny) carrying five 7″ singles (45rpm), each encased in a stunning full color glue-pocket sleeve featuring artwork contributed by a slew of amazing artists that participated in the 100 Records Project. Each box comes with a download code too, so you can listen to Sonny's jams anywhere you go with a mobile listening device.
Best of all, the music is ballin' and features an all-star cast of San Francisco musicians including: Ty Segall, Heidi Alexander (The Sandwitches), Tim Cohen (The Fresh & Onlys), Donovan Quinn (Skygreen Leopards), Kelley Stoltz, and members of Citay. HAWT DAWG!
Listen to "I Wanna Do It!" from I Miss The Jams by Earth Girl Helen Brown (Heidi Alexander of The Sandwitches) below:
Audio clip: Adobe Flash Player (version 9 or above) is required to play this audio clip. Download the latest version here. You also need to have JavaScript enabled in your browser.
The 7″ Box is extremely limited (only 300 in existence), so get one quick from Turn Up! or the Endless Nest Store. Don't worry if you miss out on the box, because the CD version will be made available starting this tuesday.
Tune in to 100 Records Updates at the Turn Up! 100 Records blog.
---
No Comments so far
Leave a comment
e-mail address never displayed, HTML allowed:
<a href="" title=""> <abbr title=""> <acronym title=""> <b> <blockquote cite=""> <cite> <code> <del datetime=""> <em> <i> <q cite=""> <s> <strike> <strong>