The Sandwitches Play with Michael Yonkers Tuesday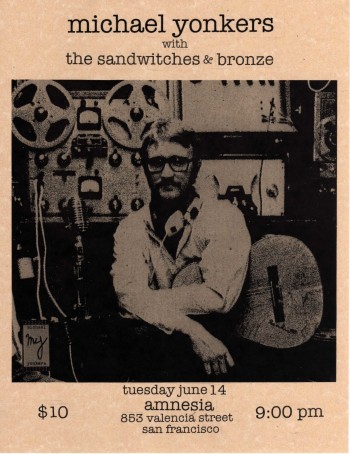 June 14th, The Sandwitches will be playing with the quietly legendary Michael Yonkers at Amnesia. It will be Yonkers' first performance in San Francisco in his evolutionary 40 year career. Yonkers' foundational stylings ignited the origin of fuzzy "garage rock" and corresponding psych-folk endeavors.
Secret Seven Records reissued his early 70s album "Goodby Sunball" last summer. As you may recall, Grace Sings Sludge (Grace Cooper of The Sandwitches) recorded a beautiful cover of his song "Oh Can You Tell Me". You can listen to that track here. Michael Yonkers with the sonic support of The Sandwitches and Bronze this coming Tuesday will certainly be a show not to miss!
---
No Comments so far
Leave a comment
e-mail address never displayed, HTML allowed:
<a href="" title=""> <abbr title=""> <acronym title=""> <b> <blockquote cite=""> <cite> <code> <del datetime=""> <em> <i> <q cite=""> <s> <strike> <strong>