New EP by Pat Thomas (of Cool Ghouls), Coasters Riding In The Air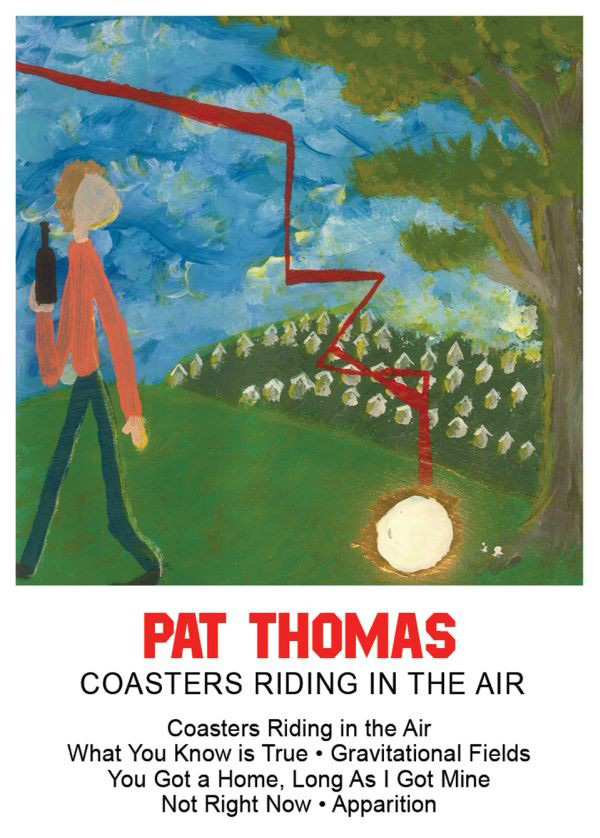 Introducing one quarter of San Francisco's Cool Ghouls, Pat Thomas! He's the tall lanky dude who plays the bass. He also writes one third of the Ghouls' songs.
The Cool Ghouls have made a name for themselves. Their soulful tunes and energetic live set have earned the band back-to-back slots with toast of the coast acts like Sonny and the Sunsets, Thee Oh Sees, The Fresh and Onlys, Mikal Cronin, Fuzz, Magic Trick, Shannon and the Clams etc. etc. etc., and they have no plans to slow their role. Less than a year since Cool Ghouls released their self-titled debut with Empty Cellar and Burger Records – and with a new full-length album already in the can – one might guess that the Ghouls have their hands full. But, like label-mate and fellow San Franciscan, Tim Cohen, Pat has more songs than any one band is prepared to handle.
So as the Ghouls keep on truckin', Thomas offers us batches of well-marinated solo material, Coasters Riding in the Air. They are infectious all-around-rad takes on classic California psych-rock; and once they are here in the world with us, they're free to go and do what they please. He wants to keep the songs flowing; to convey another corner of the zesty musical realm that he and Cool Ghouls inhabit; but mostly, because he records 'em and he'd like to share 'em. This is a very good thing.
Coasters Riding in the Air will see a limited label-only release on November 26 (worldwide December 3) as a digital download via Empty Cellar and in cassette format from Burger Records. Today, you can listen to his superb track "Not Right Now", premiered over at Prefix Mag.
"a swaggering and shimmering carefree organic rock dripping with the blithe California sunshine." – Prefix Mag
---
No Comments so far
Leave a comment
e-mail address never displayed, HTML allowed:
<a href="" title=""> <abbr title=""> <acronym title=""> <b> <blockquote cite=""> <cite> <code> <del datetime=""> <em> <i> <q cite=""> <s> <strike> <strong>