New Grace Sings Sludge (of The Sandwitches) cassette!!!
Empty Cellar Records is very happy to announce the addition of Grace Sings Sludge (Grace Cooper of The Sandwitches) to our roster, and we'd like to present to you her latest self-released album, Red Light Museum, to kick off the celebration.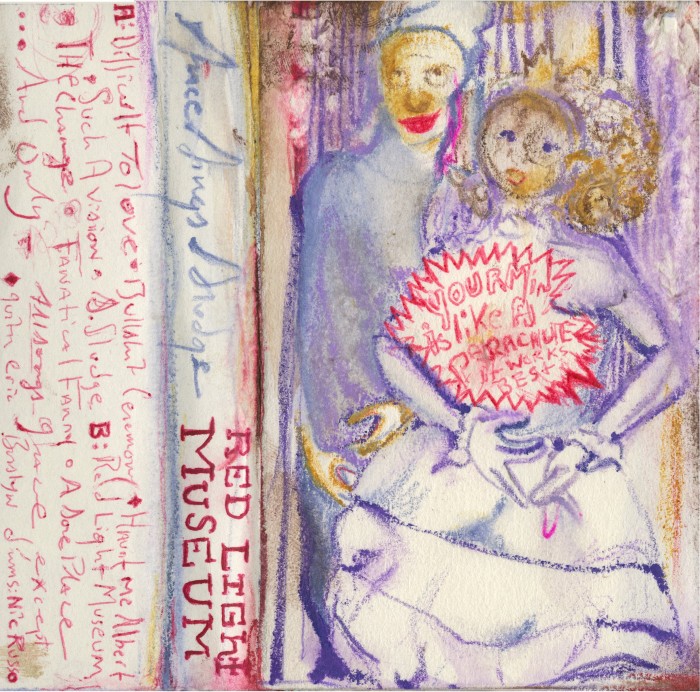 Red Light Museum is the third installment of home recordings from Grace Sings Sludge. Following two limited edition cassette releases with San Francisco's Secret Seven Records, This Time It's Personal and Last Year's Friend, Red Light Museum offers ten new emotionally captivating songs in Grace's inimitable style. From title to title Grace Sings Sludge gives us an exclusive peek into a new chapter in her own personal hell/heaven. Narrated by her stunning vocals and accompanied by sparse layers of guitar, piano, samples and drums (courtesy of Dic Stusso), each listen reveals another subtlety in the mix – a cinematic clue – to help us put the pieces together. Keeping with tradition, the album artwork is drawn and painted by Grace Cooper; and this time, each cassette version comes with a unique hand-drawn original (priceless) mini-artwork. Available in cassette (hand-dubbed by Grace) and digital.  Get it from us HERE or directly from Grace HERE!
Check out the video for 'Difficult to Luv' over at Raven Sings The Blues.
Grace Sings Sludge – 'Difficult to luv' from Empty Cellar on Vimeo. Directed by Culita of Tirando Terror
…and the VHS video for 'Such a vision' over at My Old Kentucky Blog.
Grace Sings Sludge – 'Such a vision' from Empty Cellar. Dedicated to the loving memory of its director Johnnie Roberto Russell.
Tracklist:
1. Difficult to Luv
2. Bullshit Ceremony
3. Haunt Me Albert
4. Such A Vision
5. S. Sludge
6. Red Light Museum
7. The Change
8. Fanatical Fanny
9. A Sore Place
10. …and Only
---
No Comments so far
Leave a comment
e-mail address never displayed, HTML allowed:
<a href="" title=""> <abbr title=""> <acronym title=""> <b> <blockquote cite=""> <cite> <code> <del datetime=""> <em> <i> <q cite=""> <s> <strike> <strong>