On Pillars and Tongues, The Pass and Crossings + New Single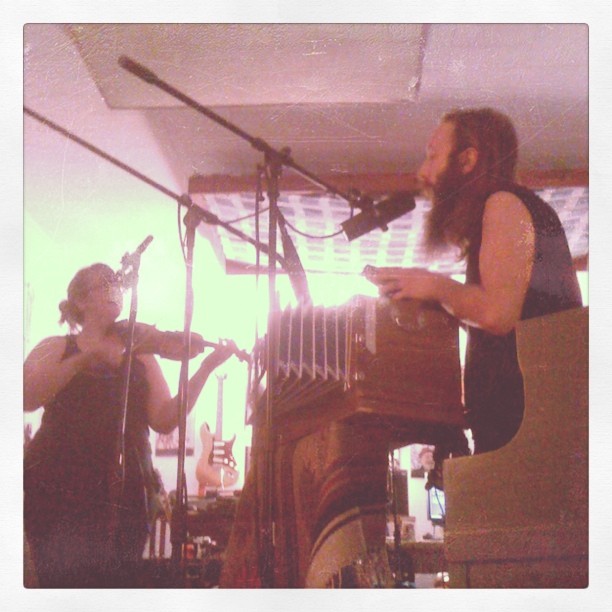 The Empty Cellar crew can talk your ear off about why we believe Pillars and Tongues make powerful beautiful music, but we will spare you our inarticulate yammering. Instead we offer you the first round of praise from the world of music criticism for their forthcoming album, The Pass and Crossings, and unveil the second single "Thank You Oaky" for your listening experience:
Audio clip: Adobe Flash Player (version 9 or above) is required to play this audio clip. Download the latest version here. You also need to have JavaScript enabled in your browser.
One of the hardest aspects of describing Pillars and Tongues is describing Pillars and Tongues… and one of our favorite past times is reading the descriptions. While some publications like The New Yorker strived to capture the bands essence with broad brushstrokes "an indefinable, primal jazz outfit with a strong ear for improvisation" others decided to brave the challenge of really pinning the band. Some of our favorite comparisons this time around were rather lofty including Dead Can Dance, Alice Coltrane, Popol Vuh… and of course, Alice in Chains.
…on the album The Pass and Crossings
"There's something exhilarating about the way they court the darkness in their own music, as if it is something which swims around them and envelops them, and is something they encourage and indulge. …an absolutely gorgeous album."
— Song By Toad
"Without a reliance on electronic drones and over saturated vocals Chicago's Pillars and Tongues seem to have a much more organic sound to it. While their overall sound is dark in nature I find it to be rather seductive as if you've stumbled upon a few friends in the basement of a 400 year old cathedral."
— Head Under Water
"This Chicago three-piece clearly possesses a total disregard for structure, big choruses and standard arrangement. Which is probably why they are so original, bewitching and contently working to their own, unique guidelines – however doomed they might be. It feels like the record is a collective thought process, unburdened by the outside forces. Yet it is their apparent freedom of expression which has created this challenging, but ultimately rewarding experience."
— Bowlegs
"Over 6 tracks, The Pass And Crossings formulates, constructs and exhibits some of the most unique (yet not unfamiliar) music being recorded today. In the most simplistic terms, you can file this album under genres like folk, drone and even blues; what's unique about it is that the music doesn't sound played, but rather it sounds induced. Rather than compacting the human experience into the smallest convenience, with The Pass And Crossings, Pillars And Tongues expand moments of it, indulge in and honour it."
— [sic] Magazine
"Soaring strings and the near chanting vocals allow the listener to float seemlessly through this album. However it is not filler or noise, but the music sucks you into the enchanted world of Pillars and Tongues."
— Deli Magazine
…on the lead single "The Making Graceful"
"This song [The Making Graceful] is totally rad. It's tribal – maybe a bit Persian. It makes you wanna tap your toes. I love it. You could totally get high to this song. In fact, it's probably preferable."
— Kyle Dean Reinford, KDR Gives You 5
"Singer Mark Trecka entrances with his deep chanting vocals on new single "The Making Graceful" from Pillars & Tongues upcoming third album The Pass and Crossings. "The Making Graceful" channels Dead Can Dance's hypnotic, almost sermon-like pop song structure. It draws you in and doesn't let go until the end."
— Loud Loop
"A six minute composition [The Making Graceful] of meditative percussive thumps overlain with fluctuating strings, it is actually aided by its length. Each pass builds the hypnotic mystique, coaxing the listener down its cathartic emotional gauntlet."
— Nothing Sounds Better
"A perplexing array of instruments filter through the cracks in the walls, joining arms and become a solitary wave of almost wistful, flowing noise. 'The Making Graceful' sounds pagan-like; how music would have been made when we had castles for skyscrapers and rituals for the internet. Its six minutes rush by in no time at all because you're given so much to ponder. Each second provides a new rush of instrumentation or a textural adjustment. A truly fascinating work."
— Music Fans Mic
"[The Making Graceful] An Eastern-influenced (visions of Ravi and Zeppelin dance in our heads) texture-and-tone heavy track. Violins and accordions blend perfectly to create a transcendental feel, while an array of syncopated percussion maintain a solid substratum of beats throughout. … both masterful and graceful."
— Chicagoist
"Pillars and Tongues are magic. A proper review is to come, but in the meantime you can listen to that song [The Making Graceful], and I can consider just how exactly I will be able to put into words something that is already distilled darn-near perfectly in its own language."
— Satellite for Entropy
…on the band
"What makes Chicago's Pillars and Tongues so enchanting is the disarming alchemy with which the ensemble stirs up its otherworldly song. Straddling the vocal out-of-body keening of Daniel Higgs and the levitating musical atomic peace of Alice Coltrane at her most drone-leaning, P&T swirls old-timey folk around the third-eye cosmic to yield something that feels of its moment."
— Baltimore City Paper
"The Chicago trio Pillars and Tongues makes very serious music. The group's droning pieces—too monumental to be called songs—feel heavy, ancient, and spiritual, like they're intended for something besides just entertainment. The best comparison might be Popol Vuh, the German band best known for providing the haunting minimalist soundtracks to Werner Herzog's Aguirre, the Wrath of God, Fitzcarraldo, and Cobra Verde. It's too heady to be pop, too viscerally ritualistic to fit into the academic confines of modern composition, too ponderous to be jazz—but whatever it is, it's powerful."
— Metropulse, Knoxville
…and for the french speakers:
"Bon sang. Il n'est pas encore sorti le nouvel album de Pillars and Tongues que déjà, on sent comme un engouement, comme les prémices d'un succès annoncé. Il faut dire que ces chicagoans ont de quoi intriguer. Imaginez un peu : ils sont trois et, à les entendre jouer, on a l'impression qu'ils sont un orchestre. Du violon par-ci, du tambour par-là, une contrebasse, un orgue, des cloches. Un véritable orchestre, je vous dis."
— My Car Is Full of Plums
---