Sonny Smith and the most ambitious project of all time…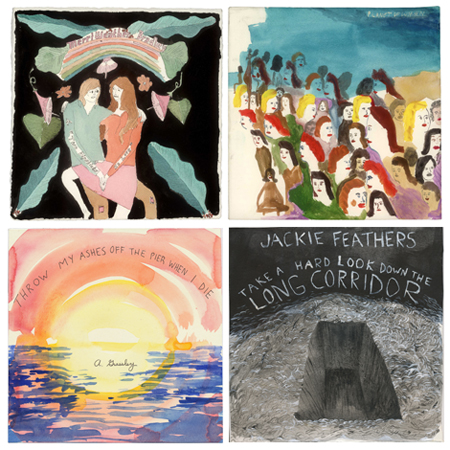 (covers top-left to bottom-right by: Kyle Field (Little Wings), Chris Johanson, Scott Hewicker, Kyle Ranson)

SONNY SMITH: 100 RECORDS
April 9th – May 31, 2010
Opening reception Friday, April 9, 6 – 9pm
Gallery 16
501 3rd St
San Francisco

Live music by
Sonny and The Sunsets
and
The Sandwitches

In Gallery 16's words:
Gallery 16 is pleased to welcome San Francisco based artist, musician and playwright Sonny Smith to his first solo show with the gallery. 100 Records is a dauntingly ambitious project that bridges his interest in art, music and dramatic form. Smith invited 100 artists to produce artwork for the record covers of fictional bands. Smith concocted the personas of each 100 fictitious bands, then wrote and recorded two hundred songs (the A side and B side) for each. All of the original artwork will be on display as well as a jukebox that plays all two hundred songs recorded by Sonny Smith and other notable musicians. Artists include, William T. Wiley, Mingering Mike, Chris Johanson, Reed Anderson, Jo Jackson, Harrell Fletcher, Chris Duncan, Tucker Nichols, Paul Wackers and 91 others!
…and in Sonny's words:

This is a year long project that began at the Headlands residency last march. I've written 100 songs for 100 record jackets hand made by a shitload of artists. Also there will be a handmade jukebox to play all the songs. there's gonna be a Volume 1 limited edition box set put out by Gallery 16 available for sale with some limited edition reproductions signed by some of the artists. This thing is a sight to be seen. Later in the year there will be a volume 2, 3, 4 etc.. Which is exciting and I will tell you more about
that soon enough.
100 records, 100 artists, 100 songs, 1 year, 1 opening, 1 jukebox, 1 you, 1 me, 1 gallery. My birth year adds up to 1 btw.
This project incorporates all that i've ever been working on all these years: literature, visual, music, collaboration, fictional characters.
It is my year of Individuation: those processes through which differentiated components become integrated into stable wholes. Coincidentally I couldn't have completed this oneness without lots of people's help.
So don't be afraid to celebrate this oneness of one-of-a-kind togetherness/oneness with five or six glasses of (free) wine.!!!

…and in the immortal words of Endless Nest:
THIS RULES!
Keep your ear to the ground for beautiful limited edition 100 Records releases from Turn Up! and Empty Cellar records.
Read This Article or visit the Turn Up! 100 Records Blog for more information.


DON'T BE AFRAID
---
No Comments so far
Leave a comment
e-mail address never displayed, HTML allowed:
<a href="" title=""> <abbr title=""> <acronym title=""> <b> <blockquote cite=""> <cite> <code> <del datetime=""> <em> <i> <q cite=""> <s> <strike> <strong>