Secret Seven Announces Reissue of Classic Michael Yonkers LP – Goodby Sunball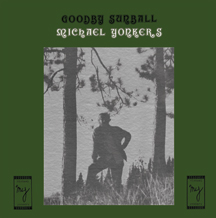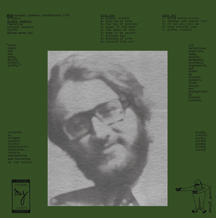 Secret Seven Records is proud to release the first ever reissue of the lost psych-folk LP 'Goodby Sunball' by cult favorite, Michael Yonkers. Privately released in 1974, 'Goodby Sunball' was recorded at Yonkers' home studio a few years after 'Microminiature Love' and just before 'Lovely Gold'. Remastered from the original LP by Ben Tuttle. Limited to 500 copies.
This record is amazing. Full of simple beauty and quiet heartbreak. So good in fact, that Grace Sings Sludge (Grace Cooper of The Sandwitches) felt compelled to record a cover of the album track "Oh Can You Tell Me" (listen to the Yonkers original HERE).
Audio clip: Adobe Flash Player (version 9 or above) is required to play this audio clip. Download the latest version here. You also need to have JavaScript enabled in your browser.
"The music for 'Goodby Sunball' was written during the recovery period following serious spine surgery. The surgery had not gone well, i was laid up for months, and had to learn to walk again. So, the music was written using an acoustic guitar, while laying in bed. When i was able to be up and around more, i started recording the songs…a little at a time.It took about 7 months. i recorded the tracks in the little studio i had in my place. It was all recorded on two-channel, tube type machines (back and forth between machines). The vocals were done in the bathroom, to give an expanded sound."
– Michael Yonkers
Side One: Goodby Sunball / Tell Me Of Love / The Day Of Jubilee / Angel Of The Snow / The Swamp Of Love / Anne Is My Lassie / Another Day / Morning Of Love / Someone Like You
Side Two: Early Wakin' Morning / Strange And Lonely Land / Oh Can You Tell Me / Time Honored Love / Goodby Sunball
It will be available in stores on July 7th, but you can pick it up early from Secret Seven or the Endless Nest Store. All orders will ship shortly before the release date.
---
No Comments so far
Leave a comment
e-mail address never displayed, HTML allowed:
<a href="" title=""> <abbr title=""> <acronym title=""> <b> <blockquote cite=""> <cite> <code> <del datetime=""> <em> <i> <q cite=""> <s> <strike> <strong>